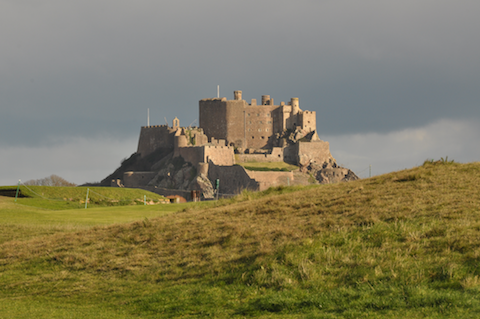 The taxi driver is a member himself and takes us with safe hands to the shop and a warm reception. The 1st shot from the 1st tee is squeezed between a fortress from the 1800s and a military bunker from WW11. Along the entire right hand side awaits the English Channel. It is winter-time and an off-shore breeze rules. It is wonderful to feel classic links turf under one's feet. The first four holes run along the beach towards Mount Orgueil Castle, which for 600 years defended Jersey from the French. The clouds break up, the winter sun emerges and we can make out Normandy's coast on the other side.
The 3rd – a wonderful par 5 – is angled to the right between two enormous trees. The 5th is a par 4 which plays uphill towards an enormous, concealed bunker just at driving distance. The greens are in unusually good condition for this time of year and cause problems for inexperienced links players. All of a sudden we are in the gorse and yet another plus on the card. We let go with a driver out of pure pleasure but must yell, "FORE!" The 7th leads us back towards the 6th and we find new angles of attack for par. The 8th is a delightful, short par 3, which was opened in 1984 by Jack Nicklaus in the company of Hale Irwin. Somewhere near here a young Harry Vardon, at the end of the 1800s, strolled about laying the foundations of one of golf's outstanding careers. The 9th is a par 5 where we managed to get tangled up in the gardens to the right. The 10th and 11th are two doglegs one left and one right. The 10th has been furnished with a completely new bunker system. The 13th is a long, straight par 5 out towards the sea, which is flanked on both sides by thick gorse and a closing plateaued green. On the 14th we once again end up miles to the right only to once again save par.
Mr L wins 4 and 3. At the 16th stands Vardon's statue – we bow and dutifully lower our putters. The 17th takes us back to the fort, which is used today as the machine shed. In front of us stands the magnificent clubhouse. A wonderful holiday links with gorse and a history in  Hall of Fame class.