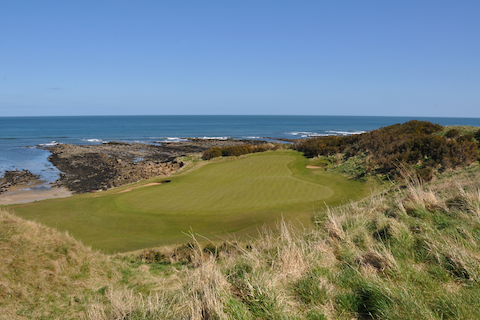 On the way to Kingsbarns, the ambassadors manage to follow the wrong Peugeot and wind up at a Scottish farm. When we finally get there we are given a warm welcome – a characteristic of these Yankee links. This one was created by Mark Parsinen together with Kyle Phillips. Our putting strokes are practised on newly-laid greens. They roll fast – super fast. The weather is on our side and the ambassadors in good humour finally catch up as does the sun. The best day so far in Scotland in 2013 says the starter. We stock up on tees, pens and green spikes for the whole family before we start an unforgettable  match.  Kyle was given an assignment with no limits and as a result created the world's best modern links course. He applied all his knowledge and let Royal Dornoch be his template before moving millions of tons of earth to make Kingsbarn look as if it had existed since the dawn of time. From the first fairway to the last green you can look out over the North Sea. We begin with a par – pure joy. In the King's barn the queen is our marker. From the 2nd to the 5th hole the course follows its own little detour. A par 3, a par 5 and two par 4s. Gorse as backdrop. A fantastic greenside bunker on the 3rd that simply must be tested. Our state of ecstasy rises even higher. The 4th – a par 4 – finishes with an infinity-green of adorable LINKS75 standard.
Back to the course proper. On the 6th – a reachable par 4 with huge, grass-lined bunkers as protection against attack – LINKS75 putts for eagle – birdie. On the 7th – a mighty par 4 resembling Rye's 4th on testosterone – we drive powerfully and only just miss out on birdie.  The 8th – a par 3 – has a fantastic view and is a pre-taste of the 15th. Four safe pars. At the halfway house, the ambassadors sip on a "shaken not stirred" and say hello to solitary soul. Like a happy child on Christmas morning the course leads us on to the closing sojourn. For the first time in LINKS75′s existence we have a course guide with a fold – the 12th at Kingsbarns – an architect's best work – a golden nugget in physical form. We don't want to play, just follow along and let the hole embrace us, just to be as one with the 12th at Kingsbarns. Love for the ground between land and sea can not get stronger than this. We glow and smile – "As life was meant to be." We manage to recover our focus and nail down two safe pars before the next experience makes us howl with joy.
The 15th – a par 3 – is an incarnation of Cypress Point's 17th. Can this be real? Is it possible to play? Are we allowed to play? Dare we play? What if it doesn't fell as good as it looks? A hole that needn't be played – a hole you want to have in a cocktail glass, while wearing a tux at Cannes Croqouette. The 16th, with a back tee right next to the 15th green, is a wonderful par 5 which hides a secret. Go behind the green and have a look at the fantastically sculptured burn – what a beauty.
Before the course leaves us in safe hands we finish the 18th. A drive up a slope in front of the clubhouse, an expectant approach over a ravine and up on to an undulating green. A finish worthy of an entire kingdom.